If you've been following my recipes you will know how important it is for me to find ways of providing nourishment to my children through my food.  I love feeding them well with meals I know they love.
Mac and cheese is definitely one of their firm favourites. The majority of this recipe is organic even the macaroni spelt grain.  however, I was unable to get hold of organic emmethal or gruyere. If you prefer, stick to mature cheddar, I just like to mix it up.
As this dish is cheese heavy I felt the need to add extra nutrients. Remember to have portion control with this dish. The size of the palm of your hand is really enough per person.
Kale is the superfood of super foods and my kids love it. Combine it with sweet potato mashed it gives it a lovely creamy thickness which means you don't need tonnes of sauce. The corn adds a sweet crunch.
This dish is a treat not something to make all the time, once a month is probably a good amount of time. It's also a crowd pleaser if you have lots of people to visit for lunch or dinner. Kids loves it.
Recipe:
300g of pasta (cook as per pack instructions but take 2 minutes off the cooking time)
2 tbsp of butter melted
2.5 tablespoons of plain organic flour
400 ml of organic whole milk (warm up the milk)
100g of organic mature cheddar
50g of emmenthal cheese
50g of gruyere
25g of mozarella
25g of parmesan
pinch of nutmeg
Handful of kale rinsed and cut up small
1 can of organic corn
1 sweet potato cooked and mashed
1 slice of sourdough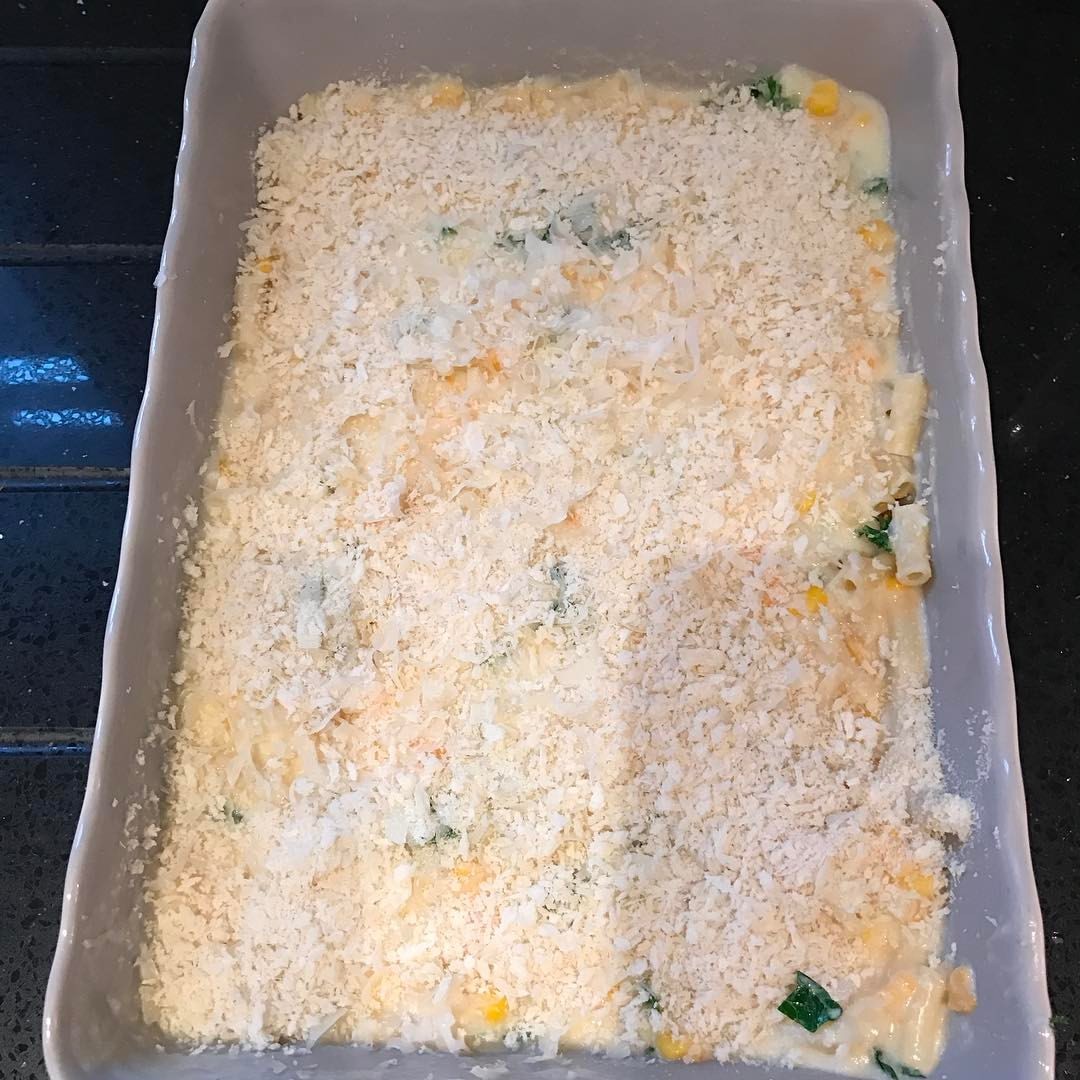 Method:
Sourdough crumbs for topping – heat crumb chunks on baking parchment drizzle with rapeseed oil and bake for 7 minutes until crisp. Put aside.
Melt the butter in the saucepan, cook for a minute and then add the flour, then cook for a further minute. Gradually whisk in the milk little by little until you have a lump free sauce. Take off the heat and fold in the cheese.
Take the pasta and vegetables and mix it up. Pour it all into the cheesy sauce and then place in a tray to bake.
Add the sourdough on top with a sprinkle of parmesan cheese and bake in the over for 25 minutes or until golden.
Enjoy